A.
Had a first and hopefully last time experience tonight. I am not sure what happened. to shorthand the infrastructure of the space, there is 8 living spaces above us. i dont know if a water heater sprung a leak or if someone O.D.'d while running a bath, but water was running two floors above us and around 9pm on a Saturday it started raining indoors. I am extremely proud of how we handled the unexpected occurrence. Our man Pablo, whom I call Guapo, was an all-star.
B.
There has been some things said around town regarding a certain feminine bachelorhood party where someone got flak about ordering a round of lemon drop shots. Granted I've been eschewing vodka lately by making ketel one old fashioneds and lemon drops with egg whites but I had my world rocked by E.Hack when he made me a Bison sour which is apparently a Milk&Honey recipe.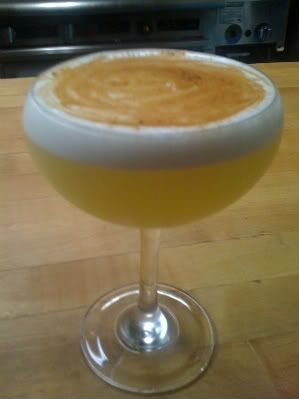 Upon further review its a flavored vodka egg white sour, which for as uncool as it sounds it absolutly delicious.
2oz. Bison Grass vodka
1/2 oz. lemon
1/2 oz. simple
egg white
Cinnamon garnish