I love how fucking cosmic things seem sometimes.
I mentioned this drink a log time ago
and since its Easter, aka the celebration of the dead rising like a zombie, (oh hush, I was raised catholic) I decided to post about it. Also there was a last minute decision to close for this
Sunday
.
On a funny sidebar:
I was hanging with an old roommate, someone who I also worked with in the service industry, share the same birthday with and took to a bar for their 21st ( all the same dude ) that I haven't seen in a few months and went for an absolutely delicious dinner at
Branzino
. As for the food, I am big on good Italian. My first job was as a dishwasher for
Pizzuto's
at age 14 and have dug italian food ever since. After words I wanted to show him the gastropub. The chefs and the manager were sitting down and we sat down alongside them and ordered our drinks. Back to the bunny.....I've been making this drink a bit often and for the first time that I've seen it was ordered for table service. Not at our table, but one a few down. The fall out was the guy working thought I had ordered four egg white drinks during the middle of a rush. Egg drinks take time and I don't recommend them when its busy time.
So instead of a molecular cadbury bunny....
I give you the Peter Cottontail.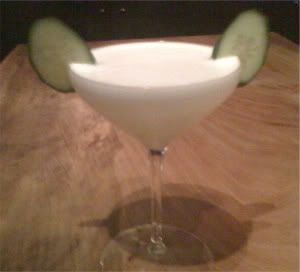 2 oz Gin
1 oz lime
1 oz simple
egg white
dash of Rhubarb bitters
Cucumber
hand blend the above ingredients and in a pint glass add 2 slices of cucumber and ice. Add mix and shake vigorously. Garnish with a floated cucumber slice or if feeling festive use two slices as rabbit ears.