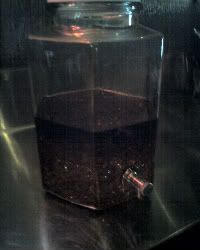 At Sun we have a house infused Black Tea Rum that is super quick and easy to Make. Simply steep your favorite black breakfast tea into a low bottle of silver rum and viola! Usually only requires 10-12 hours.
So we have been using it in a Sun Lemonade:
2oz. Black Tea Rum
1/2oz Simple Syrup
Juice of one Lemon
Combine in a tall glass and fill with soda or for a variation use ginger beer.